Setting the Stage for a Successful Video Deposition
For a deposition to be successful, it needs to run as smoothly and efficiently as possible. This is especially true when the deposition is being recorded in order to gather information or to be presented as compelling testimony before a jury.
Video depositions have become an ace in the hole for many attorneys. The boring written statement is yesterday's strategy; visual depositions add energy and excitement to cases.
Unfortunately, although video depositions are on the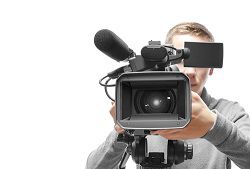 rise, improper planning, delays, and surprises can ruin their success. When the flow of a deposition is interrupted, you risk the chance of losing your audience's attention—whether that be the judge or the jury. One minute they're immersed in a story, relating to the events, and becoming invested in its outcome. Then, suddenly, a cell phone rings, the video cuts out, or the audio becomes garbled in a mess of over-talking…and the bond is broken. The fourth wall has come down and your audience loses the connection you wanted.
Video depositions can be extremely powerful in certain situations, but they're only as successful as their preparation and attention to detail allows. This is why it is essential to plan ahead in order to ensure your next video deposition runs smoothly and successfully.
The Details That Matter When Preparing for a Video Deposition
Set the Space
In order to capture clear audio and video framing, you'll need adequate and controllable space. Deciding to record a statement in a busy restaurant is never going to work in your favor. This is why it's important to reserve a space ahead of time that can accommodate everyone involved—including the videographer, court reporter, witnesses, and opposing counsel.
In addition to procuring a large enough space, the environment of that space is also important. Is there air conditioning or heat available (and is the ventilation system quiet enough for audio recording)? Is there enough light for the camera? Will everyone be comfortable? Is there clutter that may obstruct the camera's line of sight? These are all details you need to take into consideration when preparing the deposition space
Allow Time for Setup
Since videography is a technical art, your videographer needs adequate time to set up, test equipment, adjust lighting, and plan angles. It's standard practice for the videographer to arrive about one hour prior to the scheduled start time, so make sure you have the space reserved accordingly.
Limit Audio Interference
Background noise can be extremely irritating and distracting for both the witness and the viewer. A few helpful tips that can make a big difference in sound quality include:
Turning off cell phones and any other unnecessary technology.
Avoid placing papers near or against microphones. Check with the videographer for proper microphone placement.
Instruct essential parties to remain silent during questioning.
Limit "talk-overs" by taking turns speaking. If you have a rebuttal, wait until the speaker is done before interjecting. This will allow for a smoother playback as well as help the court reporter accurately distinguish between speakers.
Avoid Unnecessary and Unwanted Audio
Remember that microphone placement can capture more audio than a court reporter may hear. Therefore, unless the video is paused, private conversations between counsels may be picked up by the recording system and included within the deposition. To avoid embarrassing audio pick-ups, make sure you tell the videographer when a conversation is "off the record" so he can pause the recording.
Plan Ahead for Special Needs
Make sure that all special needs, whether they are personal preferences or witness needs—interpreters, wheelchair access, unique shots, etc.—are addressed before the start of the deposition. It's a good idea to state these needs to the videographer, space coordinator, or deposition manager at least a couple days prior to the event. Addressing special requests ahead of time can help prevent delays and obstructions.
Preparation Help
Need help preparing your video deposition? Casamo and Associates has spent the last 20 years learning, training, and perfecting the art of video depositions. In addition to knowledge and experience, we also have the state-of-the-art equipment you need to capture the attention of your audience. Call us today at (703) 837-0076 to get the help and skills you need to prepare for and secure a successful video deposition.
If you liked this post, register for email updates so you don't miss future content we post for attorneys, paralegals, legal assistants and other legal professionals. No charge. No spam. Unsubscribe anytime.