Culpeper Court Reporters, Video Depositions, Transcription, and Videoconferencing
Casamo & Associates
19154 Edge Hill Pl
Culpeper, VA 22701
Phone: 703-837-0076
Toll Free: 1-877-837-0077
Get Directions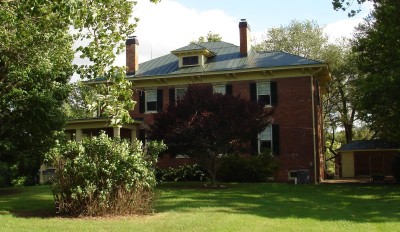 From our Culpeper office, we're able to provide top-quality videoconferencing and deposition recording equipment, as well as our transcription services to the entire Shenandoah Valley.
Similar to the historic nature of Virginia, our Culpeper office is one of our more unique locations, being an historic house. Our clients enjoy having the unique location for their depositions.
We Love Working With Our Customers, & When You Work With Us, You'll See Why
It's our mission here at Casamo & Associates to not only deliver outstanding work and unbeatable customer service, but to also cultivate personal and meaningful relationships with the attorneys that we work with. To help you perform your job as easily as possible we offer convenient online scheduling, an archive of past transcripts for easy reference, and a dedication to providing you with the very best.
Directions to Our Culpeper, VA Office
From Washington, D.C. & Points East:
Take I-66 W to Manassas
Take exit 43A onto US-29 S
After 11.5 miles, stay straight on US-29 S/US-15 S following signs for US-17 S/Culpeper/Fredericksburg
Follow US-29 S for 26.5 miles, then take the ramp and turn left onto US-15 S
After about 1 mile, turn right onto US-299 N/Madison Road
Take the first left onto State Route 692/Old Orange Road
After .7 miles, turn right onto State Route 1150/Clair Manor Drive
Go about .5 miles and turn right onto Edge Hill Place. Our office will be on the left
From Fredericksburg:
Take VA-3 W/Blue and Gray Pkwy
After 32 miles, turn left to merge onto US-29 S
Go approx. 1 mile, then take the ramp and turn left onto US-15 S
After about 1 mile, turn right onto US-299 N/Madison Road
Take the first left onto State Route 692/Old Orange Road
After .7 miles, turn right onto State Route 1150/Clair Manor Drive
Go about .5 miles and turn right onto Edge Hill Place. Our office will be on the left
From Winchester & Points North:
Take US-50 E/US-17 S for 17 miles
Turn right to stay on US-17 S
Go about 8 miles, then keep left at the fork and merge onto I-66 E
After 5 miles, take exit 28 to merge onto US-17 S toward Warrenton
Go 9 miles then merge onto the ramp for US-17 S toward Fredericksburg
After about 9.5 miles, stay straight to remain on US-29 S/US-15 S
Go approx. 18 miles, then take the ramp and turn left onto US-15 S
After about 1 mile, turn right onto US-299 N/Madison Road
Take the first left onto State Route 692/Old Orange Road
After .7 miles, turn right onto State Route 1150/Clair Manor Drive
Go about .5 miles and turn right onto Edge Hill Place. Our office will be on the left
From Harrisonburg & Points West:
Take US-33 E for about 31 miles
Make a slight left onto US-33 Bus. E/Spotswood Trail
After about 1 mile, turn left onto VA-230 E/Madison Road
Go 11 miles and then turn left onto US-29 N/S Seminole Trail
After 17.5 miles, take the ramp and turn right onto VA-299 S
Go .8 miles then turn right onto State Route 692/Old Orange Road
After .7 miles, turn right onto State Route 1150/Clair Manor Drive
Go about .5 miles and turn right onto Edge Hill Place. Our office will be on the left