Warrenton Court Reporter
Casamo & Associates
7 Hotel St
Warrenton, VA 20186
Phone: (540) 347-1822
Toll Free: (877) 837-0077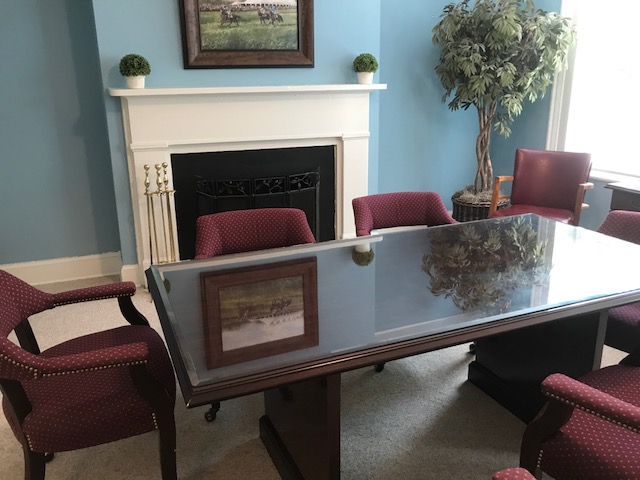 Looking for a convenient place to hold a deposition? Our Warrenton office is just around the corner from Fauquier County Circuit Court. This office provides the same great services and smiling court reporters you've come to expect from Casamo & Associates. There are office and outside patio breakout areas where you can consult with your legal team and deponents.
Looking for a last minute videoconference service for a remote deposition? We've got you covered. Need to schedule the videotaped deposition of an expert witness on a day right after you've got a hearing scheduled in Warrenton? We've got you covered for that too. This location offers court reporters, videoconference, and videography services with the Casamo reputation you've come to expect.
Schedule a deposition today by filling out our convenient online scheduler, or call us directly to make plans for your next deposition.
About Warrenton, VA:
"Warrenton is a town in and county seat of Fauquier County, Virginia, United States. The estimated population in 2015 was 9,897. It is at the junction of U.S. Route 15, U.S. Route 17, U.S. Route 29, and U.S. Route 211. The town is in the Piedmont region of Virginia, east of the Blue Ridge Mountains. The well-known Airlie Conference Center is 3 miles (5 km) north of Warrenton, and the historic Vint Hill Farms military facility is 9 miles (14 km) east. Fauquier Hospital is located in the town. Surrounded by Virginia wine and horse country, Warrenton is a popular destination outside of Washington, D.C. The settlement which would grow into the town of Warrenton began as a crossroads at the junction of the Falmouth-Winchester and Alexandria-Culpeper roads, where a trading post called the Red Store was located. In the 1790s, a courthouse was built in the area, and the location was known as "Fauquier Courthouse".
The Town of Warrenton was incorporated on January 5, 1810, and named for General Joseph Warren, a Revolutionary War hero. The Warrenton Historic District was listed on the National Register of Historic Places in 1983." (source: Wikipedia)
Warrenton Courthouse:
Fauquier County Circuit Court
29 Ashby St
Warrenton, VA 20186
Area Hotels:
Holiday Inn Express & Suites Warrenton
410 Holiday Ct
Warrenton, VA 20186
Poplar Springs Inn & Spa
5025 Casanova Rd
Warrenton, VA 20187
Airlie
6809 Airlie Rd
Warrenton, VA 20187
Area Restaurants:
Molly's Irish Pub
36 Main St
Warrenton, VA 20186
Sibby's
11 S 2nd St
Warrenton, VA 20186
Claire's At the Depot
65 S 3rd St
Warrenton, VA 20186