You Can Help Your Next Video Deposition Launch Smoothly…and Land Successfully
The ability to complement the court reporter's text of a deposition with a video has been a positive boon for attorneys.
This is the video age. Jurors are used to being exposed to video experiences online, in stores, and even on the highway, so listening to testimony—or, worse still, reading a transcript on paper—seems lifeless and dull. In contrast, show a juror a video deposition and watch how the presentation fully grabs his attention. Seeing the witness's demeanor and nonverbal signals allows jurors to better evaluate his credibility and sincerity. The witness may refer to exhibits or images that can also be displayed on the screen, making a comprehensive presentation that will argue your case for you. And nothing can compare to the spontaneity and dynamic impact of a recorded video deposition.
A video deposition also helps get you the testimony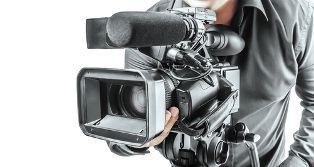 you need. Perhaps your key witness will not be available to attend the trial. Perhaps flying in an expert witness you want to use would be too expensive. Video depositions can be conducted at whatever time and location is convenient for the witness.
There's no wonder that recorded video depositions have been used more and more in recent years. The costs are remarkably low. The question is, then: what can a lawyer do to make sure the video deposition has maximum effectiveness?
The Answer: Advance Planning
Whether you are conducting your first video deposition—or your fiftieth—you will find that the secret to getting the biggest bang for your buck is planning ahead. A video deposition can be much more complex than a deposition transcribed by a court reporter. If you are new to using video, make sure you get solid advice from someone who has been through the process before—perhaps an experienced colleague or the videography firm you hire.
Here are our top seven tips for a productive and useful deposition day:
Determine your goal for the deposition at the outset. Do you expect to play the video at trial? Then you will want to review the rules of evidence that apply to depositions in your jurisdiction. If you plan to use the deposition in order to jumpstart the settlement process, you may have additional freedom in making your plans.
Hire the right team. Maybe it was okay with your cousin when Uncle Harry shot her wedding video on his home equipment, but you need a professional job by an experienced legal videographer. It's essential that your technical expert will have redundant equipment at hand in order to cope with a mechanical breakdown during the proceedings.
Get the right locale. Sure, it's conventional to gather everyone around a big table; just make sure the room you rent has plenty of floor space to accommodate all the video equipment and to allow the videographer freedom to move about to focus on the current speaker. If you are holding the session in an unfamiliar environment—perhaps you will be deposing a traffic accident reconstructionist at the intersection where a truck crash actually occurred—you will need further plans for participant seating and video camera angles.
Give the videographer early access. Budget time before the start of the deposition for the videographer and his assistants to set up their equipment, verify it's functioning reliably, and address concerns such as lighting and sight lines. As a rule of thumb, expect this process to take an hour, unless the video deposition firm provides a more specific timeframe.
Consider the use of exhibits very carefully. How a witness interacts with specific physical objects can become part of a compelling deposition video and can be crucial in getting your point across to the jury, so you don't want to blunder during the recording session. Tiny objects or even paper documents may need to be enlarged so the camera can capture details. You may need to advise your videographer in advance of potential glare off shiny surfaces, such as metallic items or laminated documents.
Help squelch competing sounds. Your video deposition is useless if its audio track is overwhelmed by competing environmental sounds. Your video team will place microphones strategically based on the seating chart you prepare. You can help secure a clean audio recording by requiring that cellphones and other electronic devices be turned off. Inform the other participants where microphones are located so their speech will be captured clearly.
Know what you want in the final product. Will you need subtitles? Chapter headings? Translation from or to another language displayed on the screen along with the testimony? An interpreter? It's important to figure out your requirements in advance and discuss them with your deposition videography company so the right equipment and personnel will be on hand for deposition day—and the right editing technology will be available afterward to create the video presentation you need to win this case.
Are you planning a video deposition in the near future? Talk to Casamo & Associates today, especially if you anticipate special requirements. Call us at (703) 837-0076 locally or (877) 837-0077 toll-free. Our service area includes Washington, D.C., northern Virginia, and Maryland.
If you liked this post, register for email updates so you don't miss future content we post for attorneys, paralegals, legal assistants and other legal professionals. No charge. No spam. Unsubscribe anytime.