Real-Time Captioning for Your Audio Transcription Needs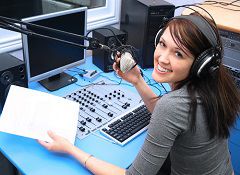 In the legal profession, the difference between five minutes from now and a week from now may as well be an eternity. Depending on the circumstances, the time between needing paperwork and getting paperwork could have huge significance. Extra jail time, more time children have to be away from their parents, additional wasted time and money…these are all consequences of having to wait for a transcript to be processed.
Even when it only causes a minor inconvenience, waiting for a deposition or statement to be transcribed can get frustrating. Even worse, there are times where you just can't wait…you need audio to be transcribed right then and there.
This is where CART comes in handy.
CART vs. Court Reporting
CART (Communication Access Realtime Translation) isn't really a what but rather a who. Although CART is the eventual product, a CART captioner is the person behind the curtain, so to speak. The captioner is essentially a court reporter who transcribes audio material instantly. Instead of taking the time to create an accurate report from notes and shorthand (as most court reporters do), captioners must transcribe audio sessions immediately into written form. However, speed isn't the only thing that sets CART apart from court reporting. Here are a few more differences:
Equipment
In order to transcribe quickly and accurately in real time, a CART captioner requires a stenography machine, computer, and special software. Although these are similar to a court reporter's tools, CART equipment must be refined to capture and translate specific shorthand tricks to accurately reflect unexpected names, terms, formulas, and sounds without the need for additional editing time. Computer processing helps translate steno outlines into English words and phrases.
Technique
A simple way to distinguish between court reporters and CART captioners is through their requirements. When a court reporter is transcribing, she's required to produce a verbatim report of the session. However, while she's transcribing she doesn't have to be 100% accurate, because she can go back and edit her mistakes. A CART captioner, on the other hand, isn't required to transcribe audio verbatim (as long as she reflects the basics of what is being said), but must be able to transcribe accurately on the first try. Mistakes can't be fixed later.
Uses
Court reporters are generally used to transcribe "on-the-record" legal procedures, such as depositions and court hearings. As such, the need for detailed transcriptions of background noises and unimportant sounds isn't a priority. In contrast, CART is used as a replacement for audio and must capture every minute audible detail that the audience would be able to hear.
Closed captioning for television or movies provides the most accessible example of CART in action. The hearing impaired must be able to take in every nuance of the film that the hearing audience can. The captions enable this by noting sound events other than speech through words in parentheses, such as "(twig snaps)" or (heavy breathing)."
However, subtitles aren't the only use for CART. Imagine you have a witness on the stand with a heavy accent. The jury is finding it difficult to understand him, but you can't delay the hearing until the court reporter gets the transcript back to you. What do you do? You have a CART captioner on hand to transcribe in real time. CART can also be used for classroom work (both on-site and remote), conferences, meetings, litigation, and broadcasting.
What's in That CART for You?
Need more information about CART? Contact us today to learn more and see how we can help you create the successful transcriptions you need.
If you liked this post, register for email updates so you don't miss future content we post for attorneys, paralegals, legal assistants and other legal professionals. No charge. No spam. Unsubscribe anytime.