We Took the Pledge: A Look at NCRA's Ethics First Program
If you haven't hired a court reporting service before, you are probably wondering why we're on our soapbox about business ethics. After all, we just show up, write down everything that everyone says in a deposition or trial, and provide you with the legal record of the event, right?
Wrong. Typing quickly is one thing, but when it comes to the responsibility of providing accurate, unbiased legal records, ethics plays a huge role.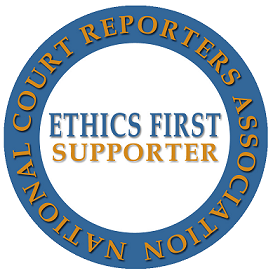 At Casamo & Associates, we firmly believe that a court reporter has a tremendous responsibility to the justice system to provide an accurate, legal record free from bias or judgment. That is why we took the pledge to promote and follow the strict rules of the Code of Professional Ethics laid forth by the National Court Reporters Association (NCRA), earning us the distinction of being an "Ethics First" organization.
What is "Ethics First?"
Impartial court reporting is essential to maintaining a just, balanced legal system. Over twenty years ago, the NCRA developed a strict policy limiting court reporter gift-giving to attorneys, witnesses, and clients in order to maintain the purity of a court reporter's role as a neutral officer of the judicial system.
Why is gift-giving so frowned upon among the court reporting profession? We do not want to promote the idea that court reporters show favor to any person or party for whom they may be charged with creating a legal record. Showing favor of this kind could undermine the credibility of our work, which would be damaging to both our clients and ourselves.
Because of our strict respect for the profession and our legal system, we have chosen to stand by the strict code of ethics upheld by the NCRA and Ethics First. When you work with Casamo & Associates, you know that you are working with a company that puts ethics in reporting above all else. Contact us today to learn more about our services and our commitment to excellence.
If you liked this post, register for email updates so you don't miss future content we post for attorneys, paralegals, legal assistants and other legal professionals. No charge. No spam. Unsubscribe anytime.