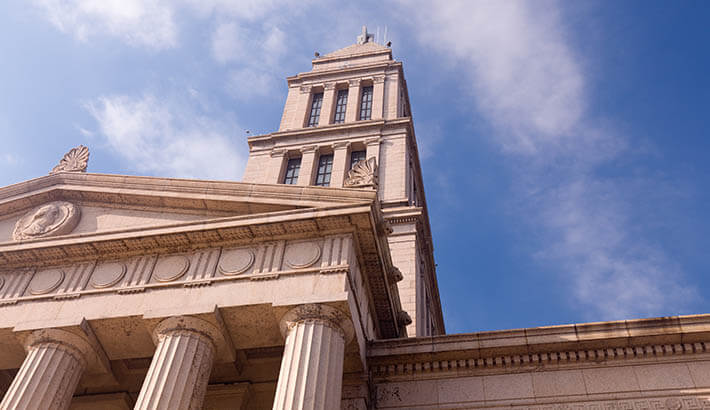 We love working in Alexandria, VA! For those who travel into town for depositions and other legal matters, we thought we'd let you know more about the city and some of the many things you might want to see and experience if you have time.
Alexandria, Virginia is located across Potomac River. The city was founded in 1749, and incorporated in 1779; Alexandria became the main port of entry to the newly established United States of America. Alexandria was also home to Revolutionary War General Light Horse Harry Lee, and his son Robert E. Lee. Whether you are making a few days to Washington, D.C or spending a long weekend, then you must visit Alexandria, VA that Smarter Travel named a "Top 10 Must-Visit U.S. Hot Spot for 2017". The following are things to could do when visiting in Alexandria, VA.
1. Dine in a historic building.
The city has over 30 new open hotels in 2017 and 2018 making it an attractive destination. Alexandria is filled with hotels in repurposed buildings, which include Columbia Firehouse which in 1871 was a Fire Company, and Grain and Virtue Feed that was former feed house. Visit the traditional restaurants and experience a gentle shiver of excitement as the interior seduces you with the wink and glint of the black marble and stone fireplace. Enjoy award-winning food in a historic atmosphere. The city has a variety of excellent restaurants from elegant fine dining to casual eateries establishments. The best option is to pick an area and choose from what's available there. Old Town is famous for its wide variety of options, many of which have outdoor dining available on beautiful days.
2. Tour the George Washington Masonic Memorial.
The Memorial is a reminder of George Washington's Masonic fraternity on faith in the principles of religious and civil liberty. You may take a tour and visit the magnificent 5.2 meters bronze statue of George Washington and an outstanding collection of artifacts. The place also serves as a community center, library, research center, concert hall, a banquet hall, performing arts center, meeting site for locals and Masonic lodges. There are tour guides daily to guide you and Tours are available to anybody wanting to see the inside of the memorial. Part of the memorial is pictured above at the beginning of this article.
3. Bike the Mount Vernon Trail.
This is perfect for the bike enthusiast that also wants to do some site seeing while getting their exercise. The spectacular bike trail begins at Roosevelt Island and goes through Potomac River to George Washington's Estate in Mount Vernon. The spectacular bike trail goes through Old Town Alexandria, Washington Memorial Park, Ronald Reagan National Airport, Fort Hunt Park and Sailing Marinas. The Mount Vernon terrain is relatively flat hence simple to ride a bike. The path then goes through Old Town Alexandria hence you should be careful when riding through the street. The trail offers beautiful views of Washington DC's famous landmarks and Potomac River. The trail is not advisable for young cyclers and beginners.
4. Take a Sightseeing Tour.
Many tours are available in the city which includes horse-drawn carriage rides, Potomac River, historic walking tours and ghost tours. You can learn about an explore historic sites such as Lee Fendall House, Gadsby's Tavern Museum, Christ Church, the Boyhood, and many more. The city is a beautiful area to visit and a perfect destination to explore on foot. Today, the Old Town is a waterfront with cobblestone streets, churches, and colonial houses, museums, restaurants, and shops. Some guides provide a self-guided walking tour and highlight the main historical sites. The city has many buildings that are known for their exquisite Georgian architecture which is restored and preserved to late 18th-century technology. There are parking slots on the street and lots of parking garages around the area.
5. Visit the Historic Park and Fort Ward Museum.
During the civil war, the 41.4-acre historic park that is located on the west end of Old Town was used from 1861-1865 as a union fort to defend Washington, DC. Walking through the grounds, you will see underground bombproofs which housed 500 men, cannons, and quarters of the high-ranked soldiers. There is a park and museum with recreation facilities and interpretive programs. Artifacts on display include diaries, uniforms, and weapons, letters, musical instruments, military equipment, photographs and surgeons' tools. There is video providing historical information and a gift shop that you can buy postcards, books, and other items. Fort Ward historical Park includes two shelters, picnic areas, playground, and a dog exercise area. There are special events that are held on the museum grounds which include Revolutionary War re-enactments and Civil War and live musical concerts.
Museum Hours:
From April to October: Tuesday to Saturday open from 9 a.m. to 5 p.m. Open on Sundays from noon to 5 p.m.
From November to March: Tuesday to Saturday open from 10 a.m. to 5 p.m. Open on Sundays from noon to 5 p.m. Closed Mondays.
6. Attend a Concert at Birchmere Music Hall.
Birchmere Music Hall can accommodate 500 people and offers many types of musical performances of jazz, folk, gospel, rock, or alternative music. Most of their shows are open to all ages, and daytime performances are mainly for kids. The music hall committed to the presentation of the best music in an intimate and comfortable atmosphere.
7. Take the Metro into DC.
With Alexandria being so close to Washington DC, why not take the Metro into the nation's capital? The King Street Metro Station services the Blue and Yellow Lines, both of which can take you right into the city's heart and the entire shopping, site seeing, and dining available therein.
Alexandria, Virginia has a great deal to offer. When you're in town for work and you have a little extra time, enjoy it!
If you're a legal professional, have you downloaded our Deposition Resource Guide for Attorneys & Paralegals? The guide discusses some of the most important deposition resources and how to best use them for your benefit. Whether you've just entered the legal field or have been conducting depositions for years, there is something in this guide for you. If you haven't yet, get your guide.
If you liked this post, register for email updates so you don't miss future content we post for attorneys, paralegals, legal assistants and other legal professionals. No charge. No spam. Unsubscribe anytime.