Going Above and Beyond the Minimum Requirements to Secure an Exceptional Court Reporter
Although generally overlooked in the courtroom, the court reporter can wind up being your best asset. As she silently sits and transcribes the trial, she is essentially creating an exact written replica of the entire proceeding. As a result, if you need to access information that was previously stated, whether during the trial or for an appeal, her notes will either be your salvation—or your doom—depending on their accuracy.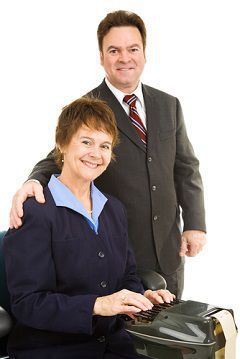 Since no one can possibly remember every word spoken in a trial, the court report acts as a documentation of the facts. However, if that documentation omits key statements or jumps around in dialogue, it can't be trusted and therefore it can't be used to debate a motion or sentencing. This is why court reporters must be held accountable by satisfying specific state requirements in order to be employed.
Satisfying D.C. Regulations and More
Laws governing court reporters vary from state to state. However, in Washington, D.C., court reporters must be legitimately certified and maintain specific qualifications. At Casamo & Associates, we take these qualifications extremely seriously in order to provide the highest quality service. This is why our court reporters go above and beyond by satisfying the following requirements:
Credible education. A degree or certification from an accredited school in court reporting; studies must include the following:

English grammar
Real-time writing
Legal principles
Medical terminology
Legal and business ethics
CART software for transcript preparation
Machine shorthand

The ability to decipher multiple voices. In some cases, audio congestion can muffle dialogue. Therefore, court reporters must be able to recognize up to four different voices at once and accurately distinguish which voice said which dialogue.
High type rate. A reporter must be able to type at least 225 words per minute with an accuracy level of at least 95%
An understanding of legal jargon. In order to record, verbatim, every word spoken during the trial, court reporters can't get stuck on a word that they don't know.
Versatility. The ability to transcribe using shorthand, mechanical means, electronic sound recording, or any other needed method subject to the discretion and approval of the judge,
In addition, we need to mention NCRA Certification as a Registered Professional Reporter. Although not required by Washington D.C. or Virginia law, many of our reporters are certified by and have active memberships in the National Court Reporting Association.
Your Trial Report Needs to Be Perfect. Allow Us to Help
Don't allow your case to be jeopardized by an inexperienced or lazy court reporter. Contact us today at (877) 837-0077 to see how we can help secure your case with a properly trained and dedicated reporter. You can't chance vital information slipping through the cracks—and our reporters won't let anything get by them. Call us today to ensure your case doesn't hang in the balance.
If you liked this post, register for email updates so you don't miss future content we post for attorneys, paralegals, legal assistants and other legal professionals. No charge. No spam. Unsubscribe anytime.