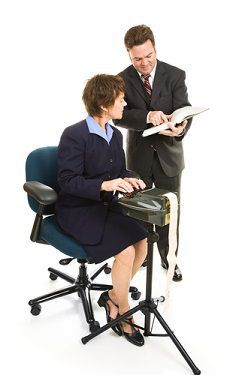 There's no time to wait for transcript delivery in your upcoming case. There are too many witnesses, and you need to be able to respond quickly and think on your feet—there's no choice but to use real-time court reporting. A live stream of testimony being sent right to your laptop gives you the freedom you need to control your case, but how much faith should you have in the person creating the text?
A National Verbatim Court Reporter Can Benefit Your Federal Case
Many court reporters carry certification from the NCRA, or National Court Reporter's Association. However, with the growing trend of real-time, voice-to-text court transcription, many reporters have elected to continue certification through the National Verbatim Reporter's Association (NVRA). The NVRA addresses quality and professional standards particular to verbatim court reporting, and ensures that members do their utmost to faithfully represent the testimony in court.
Benefits of Using Certified Verbatim Court Reporters for Government Depositions
The NVRA offers professional development and support to reporters, including:
Certifications. The NVRA offers five levels of certification: Certified Verbatim Reporter (CVR), Certificate of Merit (CM), Realtime Verbatim Reporter (RVR), Registered Broadcast Captioner (RBC), and Registered CART Provider (RCP). Skill levels increase with each certification, and credentialing is awarded after rigorous testing to determine levels of ability. Reporters must take required continuing education credits to maintain their certifications.
Ethical standards. Like the NCRA, the NVRA has a code of ethics to set standards for its members. Some of these standards include a respect for confidentiality for all parties in proceedings, restrictions on giving and receiving gifts or incentives, ethical behavior during testing and continuing education, accepting responsibility for legal misconduct, and agreement to honor the constitution and bylaws of the NVRA.
Professional standards. In addition to adhering to the law and NVRA codes of conduct, reporters are also responsible for delivering transcripts promptly; maintaining accuracy and adherence to all laws, statutes, and regulations; keeping current with continuing education and training to maintain professional competence; and staying informed about new and changing regulations concerning their profession.
At Casamo & Associates, we know how important it is to have a court reporter who values your case as highly as you do. All of our reporters hold certificates as Certified Court Reporters, are notaries public, and have an average of ten years experience in the legal profession. Many of our court reporters have memberships in several national reporting associations, and can deliver prompt and accurate real-time assignments. Visit our Online Scheduler today to let us know what services you require.
If you liked this post, register for email updates so you don't miss future content we post for attorneys, paralegals, legal assistants and other legal professionals. No charge. No spam. Unsubscribe anytime.