Help Us Help You: When to Check in With Your Court Reporter During a Deposition
At Casamo & Associates, we pride ourselves on our excellent team. We know that the court reporters we send to attorneys and courts throughout the Virginia, Washington, D.C., and Maryland areas are prepared, professional, and proficient, ready to offer you a finished product that is nearly perfect.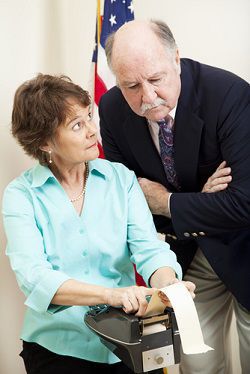 No matter how much experience a court reporter has, however, there will be certain things that he or she will need from the attorney in order to produce a top-notch record of your deposition. Keep reading to learn how to help your court reporter help you!
Checking In: Make Sure That Everything is Crystal-Clear
When you're "in the groove" during a deposition, it can be tough to step back and see things from a court reporter's point of view. You are getting the information you need from your witnesses, but you will also need to make sure that your court reporter is getting the same. Sometimes we'll interrupt quickly to get the information we need, but other times, we may not find the right moment in the midst of the action, and make a quick note to ask you later.
Writing down everything is tough, but for a court reporter, it is an absolute necessity. Your witnesses may speak at different volumes, with different accents, and at different rates. They may mumble, or they may try to speak over you. Most court reporters can adjust on the fly, but occasionally, they'll need some help. Here's how you can help your court reporter help you get the most accurate record:
Check in once in a while to see if your reporter needs the proper spellings for any names, places, etc. He or she is probably making notes of spellings to verify after the fact, but having the information at hand earlier can help.
If you notice that your witness is speaking very quickly, try to set the pace at a more comfortable level to ensure that everyone is able to process the information properly. The same goes for mumblers and whisperers; if you can't understand your witness, the court reporter may be having a tough time, too.
After the deposition, don't disappear right away. Verify that the court reporter doesn't have any other important questions for you. We promise: he or she will be quick!
As court reporters, we have a tough job, but attorneys who are conscientious about possible challenges make our work easy. If you are in need of court reporting services for depositions, arbitration, or any other needs, call Casamo & Associates today (that's C-A-S-A-M-O)!
If you liked this post, register for email updates so you don't miss future content we post for attorneys, paralegals, legal assistants and other legal professionals. No charge. No spam. Unsubscribe anytime.