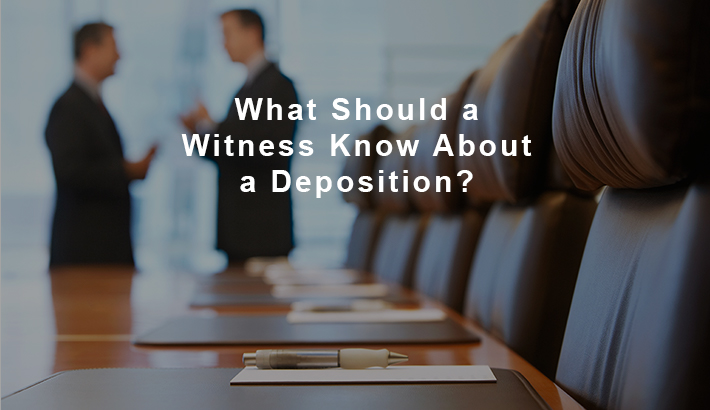 Are you a witness with an upcoming deposition? Whether this is your first or one of many depositions you've had, it's important to be as prepared as possible.
What happens in your deposition will likely affect the outcome of the case.
Over the years, we've published many articles on many topics related to depositions. Even though we, as court reporters, work directly for attorneys and report what is said during a deposition, we decided to publish articles about what we believe would be helpful to witnesses.
We've compiled a list of some of the 10 most viewed articles on our website that discuss helpful tips for witnesses. Because of how many views these articles get, we know these are topics that witnesses are searching for answers about.
(Disclaimer: We are not attorneys and this is not legal advice. Please consult an attorney about any of these topics when preparing for your deposition.)
Top 10 Articles to Help a Witness Prepare for a Deposition
What to Wear to Your Deposition
Your counsel has given you plenty of good advice on preparing for your legal deposition. You know that you must be polite and respectful, avoid interruptions, and speak clearly on the details of your story. But now that you have prepared your testimony, you're wondering how else you will be judged in the courtroom—and one of the biggest factors influencing the jury will be your appearance.
While how you look and what you wear doesn't necessarily tell the jury everything about you, your appearance will nevertheless play a significant role in how you are perceived. (Read more…)
When Should a Witness NOT Answer a Deposition Question?
Your attorney has prepped you for your deposition. You're pretty clear on what will happen, who will be present, and what you should do if you are unable to answer a question. But what if you can answer a question, but you don't think you should?
This is a typical occurrence at many depositions. While the deposing attorney will ask questions that are relevant to the case, they may also repeat questions to make sure your answers are consistent, or ask questions that are meant to embarrass or enrage you. Often, these questions will be damaging to your case if you answer them truthfully—and of course, you have sworn to do so. So, what are your options? (Read more…)
Can (and Should) You Go to a Deposition Without an Attorney?
You've decided to represent yourself in court. You didn't do anything wrong, and you just need to give a few straightforward answers and get on with your life. Why would you need to pay an attorney just to stand in the corner while you answer a few questions?
Many deponents assume they do not need an attorney to be present for questioning because attorneys rarely take action in a deposition. What they do not realize is that most of the necessary work of a deposition takes place beforehand, so if your attorney has done a good job preparing you, he will likely say very little on the day of your actual deposition.
An attorney's most vital role is to prepare his client. (Read more…)
Preparing for Your Deposition: Who Will Be There and What Will Happen
What happens in your deposition will likely affect the outcome of your case.
You have good reason to be nervous about appearing for your deposition. No matter how much the opposing attorney may try to put you at ease, your deposition may be the most important event in your case—and can be even more effective than your testimony in court. (Read more…)
When Attorneys Can and Can't Object During a Deposition
The real legal world is rarely as tense and active as courtroom dramas would have you believe. For example, your attorney is bound by the law when objecting to questions: he may only interrupt if the question is irrelevant or improper. If the answer hurts your case, but is relevant, there is legally nothing he can do. (Read more…)
The Documents You Bring to a Deposition Can Hurt Your Case
You may have learned the old Boy Scouts maxim: Be Prepared. It's helped you a lot throughout your life, and while your attorney does a fine job of protecting your interests, you figured it couldn't hurt to give him a hand by backing up all of your arguments with paperwork. After all, this is a great way to show opposing counsel that your case is airtight.
Sometimes, too many documents may actually hurt your deposition. (Read more…)
Avoid These Four Common Mistakes in Your Deposition Answers
One of the worst mistakes people can make in a deposition is forgetting that how and when they answer a question can be just as important as the words they use. If you want to make sure that your testimony is the best possible representation of your side of a case, remember these four tips addressed in this article as you enter the deposition area. (Read more…)
These Last 3 Articles Include Questions Related to Specific Case Types:
What questions will I be asked in my divorce deposition?
An opposing attorney could ask any number of questions in your divorce deposition. Some are relevant to the facts of your case, and some are not—but if you choose to answer them, all of them can be used in court. This article discusses a few topics that may be brought up during your deposition. (Read more…)
Common Questions Attorneys Ask in a Worker's Comp Deposition
You were injured on the job, so you deserve fair payment for your bills and medical treatments from your employer. You're not really afraid to give testimony to another attorney; the facts, as you see them, are pretty straightforward. However, if you're not prepared to answer questions about your home life and previous jobs, you will likely be rattled on the stand—maybe even to the point where your answers hurt your case. (Read more…)
What are some worker's comp deposition mistakes I should avoid?
There are plenty of mistakes a deponent can make in an injury case, so every injured worker should be fully prepared by his or her attorney well before the deposition date. The first things to remember are that you should always tell the truth, be polite, and only give as much information as necessary to answer the question you are asked.
In this article, we discuss three ways deponents have hurt their deposition testimony in the past. (Read more…)
We hope this resource article will assist you in preparing for your upcoming deposition. Remember, make sure to consult your attorneys about these topics to make sure you do what they recommend.
If you are an attorney and would like to share some of your thoughts about preparing witnesses for depositions, we'd love to hear from you! Contact us here.
If you liked this article, you might also enjoy reading one of our more recent articles, What Attorneys Wish Their Witnesses Didn't Do on Social Media.
If you liked this post, register for email updates so you don't miss future content we post for attorneys, paralegals, legal assistants and other legal professionals. No charge. No spam. Unsubscribe anytime.