Have American Bar Association Requirements Caused Law School Tuition to Increase?
This will come as no big surprise: law school is expensive.
This may startle you, however: the claim has been made that the American Bar Association is the driving force behind law school tuition.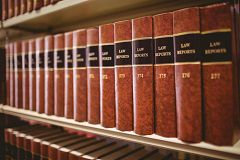 The argument goes that a driving force for law school costs are the American Bar Association's (ABA) law school standards. The ABA's accrediting body, the Council of the Section of Legal Education and Admissions to the Bar, has established specific—and costly—standards to which all accredited law schools must adhere. The law schools push these expenses onto the students via tuition and fees.
Expensive Accreditation Standards
In order for a law school to be officially recognized by the American Bar Association, it must follow and maintain a number of ABA rules. Unfortunately, although the ABA accreditation brings prestige and honor to the law school, these rules can get extremely expensive for both the university as well as the students.
ABA requirements include:
Non-profit status. As many schools find innovative ways to make money in order to keep tuition costs low, the ABA requires that law schools remain strictly non-profit. Therefore, instead of being able to pay for their own upkeep and survival, law schools must increase student tuition costs.
A staff of full-time professors. Although many schools can reduce costs by hiring part-time teachers and field professionals, the ABA feels that it is a mark of professionalism to have law schools staffed with full-time legal academics. Although some more prestigious schools (Harvard, Princeton, etc.) can get away with having retired judges and adjuncts teach a few courses, less distinguished schools must have full-time professors to be considered an accredited law school.
Low professor workload. Although schools are required to staff professors on a full-time basis, the ABA's professional model limits the amount of "school work" each professor must handle. The ABA assumes that each professor is a scholar and therefore needs time for research and writing. Of course, full-time professors need to be paid for working 40 hours a week, even if they are teaching for only four or five hours a week.
Specified three-year program duration. In order for a law school to be accredited by the ABA, it must have a three-year program of instruction. Most law students agree that the third year is useless: time is wasted and money is lost on unnecessary courses that are taken merely to satisfy the credit requirement. Other schools may forego useless credits and shorten programs into three or four intense semesters in order to keep costs down. However, the ABA won't allow law schools to condense their degree programs below three years.
Elaborate facilities. The ABA feels that the structure and environment of a law school should never have a negative effect on its students' education (even if preserving that environment requires that those students pay more). As a result, the ABA can demand improvements and new building constructions at any law school at will, disrupting university budgets and increasing student costs.
Well-stocked and illustrious libraries. Even though most legal research is now accomplished on computers, the ABA requires law schools to invest in thousands of hardcover law volumes, most of which will rarely ever be opened.
Considering how the cost of tuition is one of the main distractions that cause students to forego a legal career, do you think these ABA standards are going against the best interests of law schools? Let us know what you think in the comment section provided on this page. We're eager to learn how you feel about law school costs and expenditures.
If you liked this post, register for email updates so you don't miss future content we post for attorneys, paralegals, legal assistants and other legal professionals. No charge. No spam. Unsubscribe anytime.