The U.S. Court Administrative Office provides court and deposition interpreters for witnesses whose primary language is anything other than English. These interpreters are responsible for:
Accurately translating attorney and judge inquiries to the witness in the witness's  preferred language.
Accurately translating the witness's response back to English.
Accurately interpreting meaning and nuance of both languages in order clarify responses and show the emotional tone of an answer.
Essentially, it is the interpreter's job to provide a guarantee to both witness and attorney that everything said will be fully understood by all parties.
It's important to remember that a person's testimony can make the difference in a case but consequently, any mistake or misunderstanding of that testimony can have the opposite effect. As a result, the skill and type of interpreter chosen for a court proceeding—certified, qualified, or skilled—is essential to its outcome.
Professionally Qualified Court Interpreters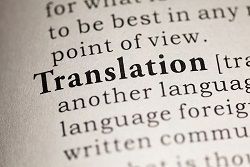 The most widely used type of court interpreter is known as the professional qualified interpreter (PQI). Unlike a certified interpreter, a PQI doesn't have to pass Court Administrative Office interpreter exams to qualify as a skilled interpreter. However, considering the importance of accuracy, they still must be able to demonstrate their competence as well as show documentation of their experience.
Credentials for PQIs require sufficient authentication and must meet the court's criteria for proficiency by satisfying, at least, one of the following accomplishments:
For Foreign Language Interpreters
Completion of U.S. interpreter competency test. The U.S. Department of State conference or seminar interpreter test must be passed in a language pairing that includes English and the qualifying language. Note: The State Department's escort interpreter test is not eligible for qualification.
Completion of the United Nations competency test. The interpreter test of the United Nations must be completed (and passed) in a language pair that includes English and the target language in order to qualify as a PQI.
Completion of a membership in an accredited language institution. A respected membership in the Association Internationale des Interprètes de Conférence or the American Association of Language Specialists can act as a qualifying credential for a PQI, as long as the language pair of the membership is English and the target language.
For Sign Language Interpreters
Interpreters are a crucial part of many depositions, trials, and meetings. They not only provide an understanding of what is being said, but they also provide communication comfort to witnesses and record clarification. For more information on translation and interpreter services or how to secure a clean recording dialogue, contact us at (703) 837-0076.
If you liked this post, register for email updates so you don't miss future content we post for attorneys, paralegals, legal assistants and other legal professionals. No charge. No spam. Unsubscribe anytime.