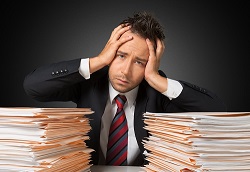 Unless your job entails playing with puppies all day, binge-watching Netflix, and eating ice cream for quality assurance, no job is 100% fun, 100% of the time. Consequently, any job can cause a person to become disengaged and both physically and emotionally overwhelmed. This disconnection eventually builds up to the point where it chokes your ability and motivation to do your job, connect with friends and family, and focus on your health.
In short: you burn out.
Lawyer Burnout
The term "burnout" is not a medically recognized term, but rather an somber and chronic feeling that affects a wide range of professionals, especially those with high-stress and demanding jobs, such as lawyers and doctors.
In fact, Paula Davis-Laack, a burnout expert (and fellow attorney), believes that the law, with its "unforgiving culture, long hours, and billable time, presents especially acute distractions [and overloading triggers] that place lawyers at risk for burnout." Furthermore, lawyers tend to lack adequate resources (social support, helpful advice, feedback from friends of colleagues) that could otherwise help lessen the burden of their jobs and allow them to rekindle the flame, as it were. As a result, the passion, dedication, and enjoyment that a lawyer once felt for his work and life, slowly begins to suffocate, until there is nothing left to keep him going.
Noticeable Signs
Burnout often takes hold gradually and build over time, which makes it difficult to recognize. Furthermore, the symptoms of burnout can mimic other conditions, masking its presence. The following signs are common with burnout victims and should be handled with care, especially when experiencing multiple symptoms.
Fatigue. A tiredness that goes beyond sleep deprivation—your whole body feels warn out.
Cynicism. A feeling that nothing matters.
Self-doubt. A feeling that no matter how hard you work you're not getting anything accomplished.
Inattention. An inability to focus (on your work or life) and decreased productivity.
Physical pain. Frequent headaches, digestive issues, difficulty sleeping, or chest pain. This can be accompanied by various forms of psychological suffering, such as panic attacks, increased anger and irritability, feeling of hopelessness, helplessness, and a general loss of enjoyment, depression, etc.
Social withdrawal. An increased desire to be alone or increase anxiety in social situations.
Although burnout can gravely affect your job and health, it's not an insurmountable problem. There are techniques to fight professional burnout—and yes, they work for lawyers, too. For more information on how to de-stress and avoid burnout, feel free to browse our extensive library of informative blogs. You never know when our advice could help save your job, your career, and your future happiness.
If you liked this post, register for email updates so you don't miss future content we post for attorneys, paralegals, legal assistants and other legal professionals. No charge. No spam. Unsubscribe anytime.