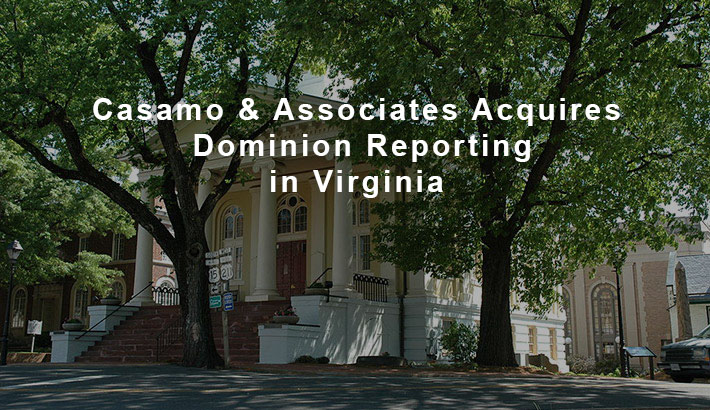 FOR IMMEDIATE RELEASE – Alexandria, VA – October 23, 2017
Casamo & Associates, a full-service court reporting and litigation support firm based in Virginia, announced Dominion Reporting, a court reporting firm based in Warrenton, VA, has been acquired by Casamo & Associates.
Headquartered in Alexandria, VA, with additional offices in Fairfax, Culpeper, and now Warrenton, Casamo & Associates is known for providing friendly, experienced and professional court reporting services and cutting-edge technology to meet the needs of their clients.
Dominion Reporting has provided court reporting services for depositions and trials in Warrenton, VA, and the surrounding regions for over 20 years.
In 1989, Jodi Casamo started Casamo & Associates after seeing the need to better serve the attorneys and paralegals in Virginia, D.C. and Maryland. With over 40 years in the reporting industry, she has built and maintained strong relationships as she has grown Casamo & Associates, building her business one client at a time.
While Casamo & Associates has grown considerably over the years and now has a strong internal staff and excellent court reporters, Jodi still takes each client relationship personally and works to ensure that each one has a great service experience.
Debra "Debbie" Copeland, of Dominion Reporting, stated in an announcement to Dominion clients, "With the transfer of ownership, much will remain the same. All Dominion Reporting staff plan to continue on with the new company. As I step away from administrative duties I plan to return to the field as a court reporter, so you'll probably be seeing more of me than you have in the past. I look forward to that! We at Dominion have strived always to ensure you were in good hands. I can assure you that that same level of service will continue under the new ownership."
Jodi Casamo, owner of Casamo & Associates, stated, "We are thrilled that Debbie and the Dominion Reporting team has joined our team at Casamo! From working together for years, we know that our cultures and client service-first approaches line up and are a great fit."
What does this mean to Casamo and Dominion clients?
According to Debbie Copeland, "Clients of Dominion Reporting will now have access to a greater range of services, such as multiple location videoconferencing facilities, videographers, trail presentation and tech support."
Jodi Casamo added, "The addition of the Dominion team includes increasing our team of excellent court reporters and gives us a greater ability to cover legal proceedings in Warrenton and in all regions between Alexandria and Culpeper and beyond for our current clients. We will also ensure that Dominion Reporting clients continue to receive the excellent service they have grown accustomed to."
The new Casamo & Associates Warrenton location is at:
Casamo & Associates
7 Hotel Street
Warrenton, VA 20186
(540) 347-1822
For more information, contact Jodi Casamo at (703) 837-0076.
If you liked this post, register for email updates so you don't miss future content we post for attorneys, paralegals, legal assistants and other legal professionals. No charge. No spam. Unsubscribe anytime.