Currently, Virginia does not have any certified court reporting schools open for enrollment. That is to say, it doesn't have physical campuses for students to attend. However, just because Virginia doesn't have college campuses doesn't mean Virginians wishing to pursue a career in stenography, court reporting, or transcription services are completely out of luck.
Several colleges across the East coast support the Virginia Court Reporting Association and offer accredited online courses for the convenience of those who are unable to attend onsite training. A few colleges that support online court reporting programs for Virginians include: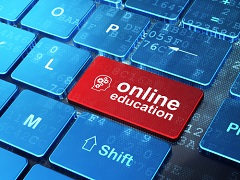 Out-of-state online stenography courses provide unique advantages (and only a few disadvantages) over campus courses and are readily available to committed students.
Online Course Advantages
Though you may not receive the full "college experience" of walking around a campus, attending student parties, or pulling all-nighters and showing up to class in your PJs, accredited online stenography courses can supply you with the education and skills you need to build a satisfying career. Furthermore, they can do all this while also providing you with the following off-campus advantages:
Savings on travel. Online courses are the epitome of convenience as you can do all of your coursework wherever you have access to a computer. Bad weather? No problem, you don't have to leave. Sick? Stay in bed and prop your laptop on a pillow.
Conserving money. Many online courses are much cheaper than campus classes since the college doesn't have to pay for a meeting room or for the professor to travel.
Saving time. In addition to the time saved from not having to drive to and from campus, online courses provide you with the freedom to study and do your work on your own schedule. Instead of having to make time to attend class, you can study during work breaks, during long nights of insomnia, etc.
Reducing stress. Due to their convenience and lack of social interaction, online courses are usually much more relaxed than ordinary class schedules. You're given freedom to set your own work schedule with minimal time pressure.
If you liked this post, register for email updates so you don't miss future content we post for attorneys, paralegals, legal assistants and other legal professionals. No charge. No spam. Unsubscribe anytime.